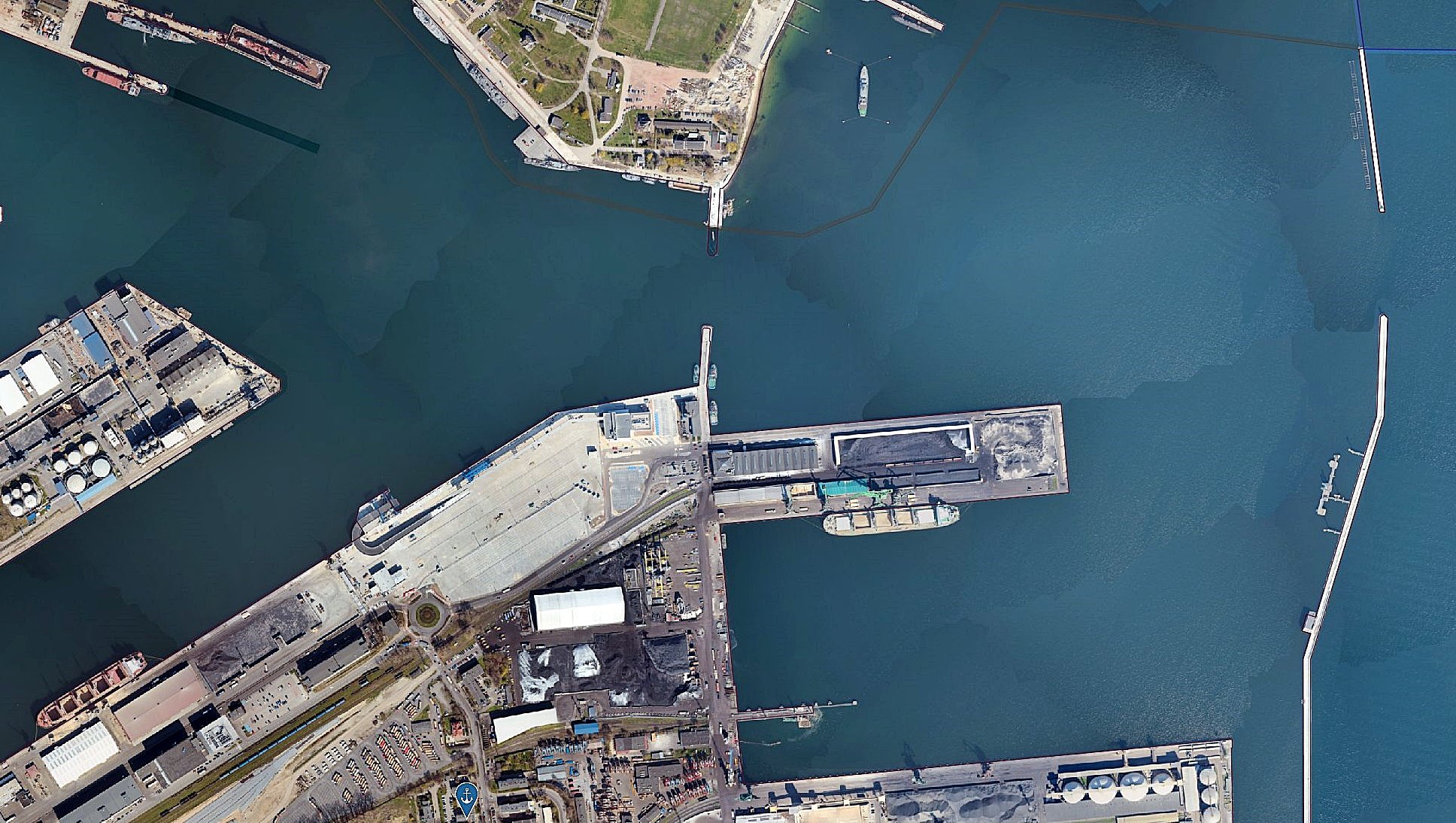 Maritime Traffic Safety Department
TSS in the area of responsibility of Director of Maritime Office in Gdynia
TSS systems in the area of ​​responsibility of the Director of the Maritime Office in Gdynia
Traffic Separation System in the Gulf of Gdańsk
1. The local system for the separation of vessel traffic in the Gulf of Gdańsk is under the service of the VTS Zatoka Gdańska Center.
2. The master of each vessel on its way to or leaving the ports of the Gulf of Gdańsk is obliged to comply with the rules of vessel traffic organization in the TSS "Zatoka Gdańska".
3. The vessel Traffic Separation System "Zatoka Gdańska" consists of the following elements:
a) "TSS - West" (WEST) - Traffic separation scheme starting 5 miles NE from the "HEL" buoy then leading to the "GN" buoy and "GD" or "NP" buoys as appropriate;
b) "TSS -East" (EAST) - Traffic separation scheme starting 4 miles NW from the "ZN" buoy leading to the "ZS" buoy;
c) "ITZ" - Inshore traffic zones;
d) Recommended routes.
4. Details of the traffic organization rules in the area under the control of VTS Zatoka Gdańska can be found in the "VTS Zatoka Gdańska" tab.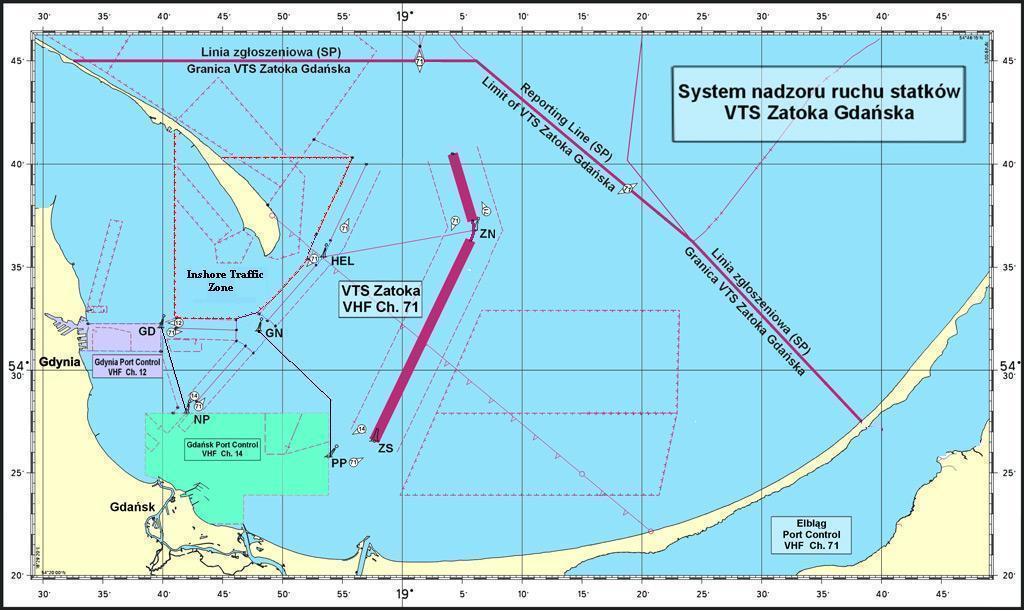 Vessel traffic separation system TSS Ławica Słupska - TSS Slupska Bank
The Maritime Safety Committee (MSC) of the International Maritime Organization (IMO), during the 102 session held on November 4-11, 2020, adopted changes to the TSS Ławica Słupska traffic separation scheme. The revised system is effective from 1 June 2021.
The Traffic Separation Scheme consists of three parts:
Western part:

two lines each 1.75 mile wide;
0.5 mile separation zone;

Central part:

two lines  each 1.6 mile wide;
0.4 mile traffic separation zone on the west side and 0.8 mile on the east side;
inshore traffic zone;

Eastern part:

two lanes of variable width;
traffic separation zone of variable shape and width;
inshore traffic zone.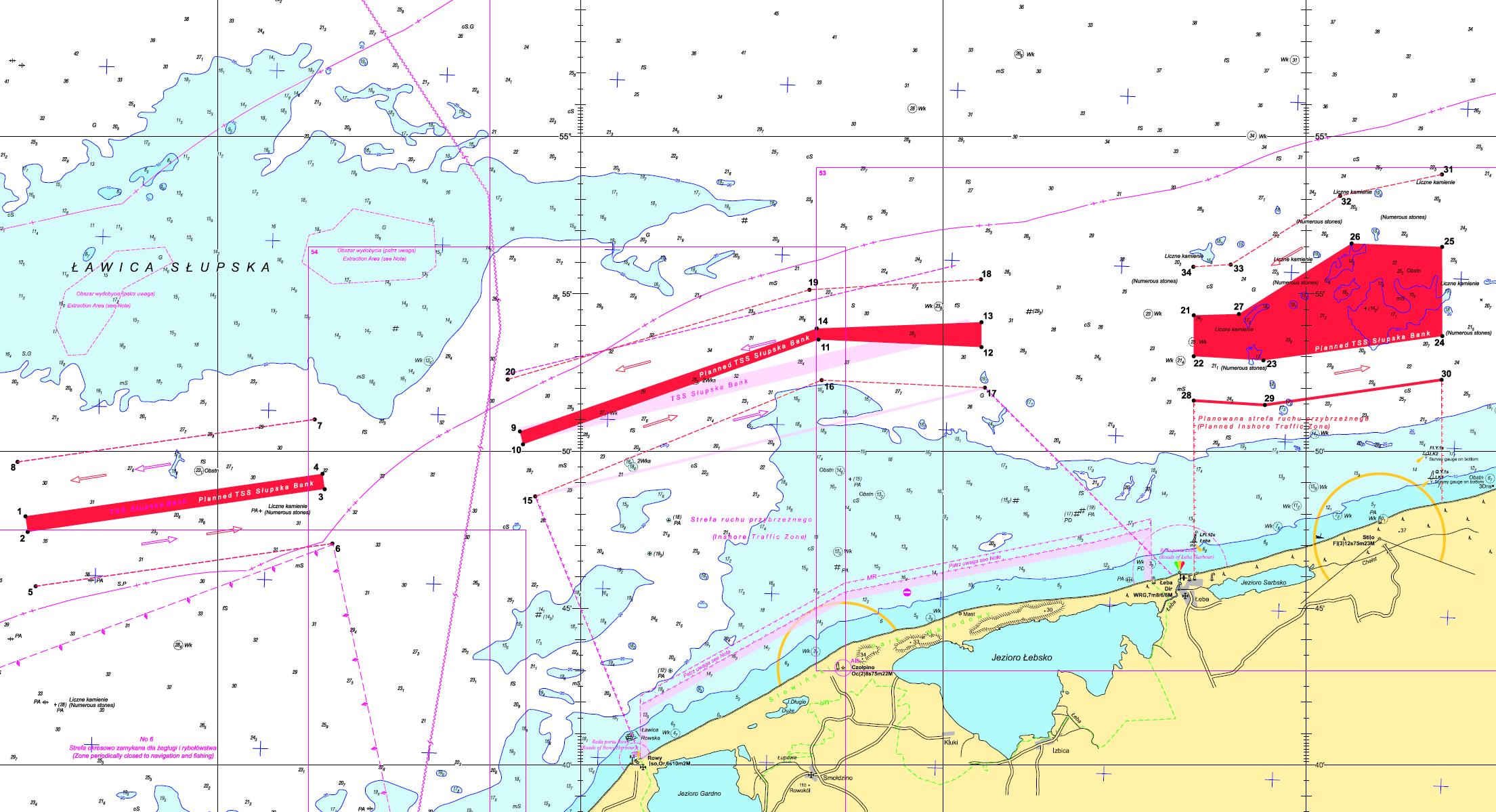 The geographical coordinates of the changed system are included in the appendix 'Updated TSS Traffic Separation System' Ławica Słupska '.
VTS Ławica Słupska
Vessel traffic supervision in the TSS Ławica Słupska area is performed by the VTS Ławica Słupska Vessel Traffic Control Service (VTS Slupska Bank) by performing the following tasks:
carries out the control and management of vessel traffic by issuing instructions, recommendations and orders, in particular when, in the VTS operator's opinion, the situation may lead to a threat to the safety of navigation;
supervises the vessels' compliance with traffic regulations and other regulations in force on designated routes and in the traffic separation scheme;
provides an information service using the available radar systems, communication devices and the Automatic Identification System (AIS).
The master of each vessel using a traffic separation scheme, navigating in its vicinity or crossing the system, is required to comply with the International Regulations for Preventing Collisions at Sea (COLREG 1972), including regulation 10 of the above rules.
VTS Ławica Słupska Duty Service (24/7):
VHF:        73
Phone:     +48 59 814 6204, +48 59 814 4889
Mobile:    +48 784 778 876
Satellite:  +881 631 586 326
Fax:           +48 59 814 6204
Email:       vtslawica@umgdy.gov.pl
Downloads
1. TSS Ławica Słupska - Zmieniony System Rozgraniczenia Ruchu
1 April 2022 by Michał Tomczyk